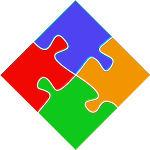 In the spring of 2020, we saw many acts of kindness in our town as the pandemic isolation began. We joined in on the fun, trying to maintain connections with our neighbors. We set out a big basket of colored chalk with a sign telling people walking by they could draw a picture on our sidewalk and take a box of chalk home to make more art. We gave bottles of bubbles to the neighbor kids. And, we put a pile of jigsaw puzzles we no longer needed on a bench by the street with a note to take one or leave one.
Some of those puzzles quickly disappeared, but others showed up. For a few days of nice weather, people exchanged their old puzzles for new ones and it was nice.
Now that the pandemic is continuing and winter is coming on, I created this
Puzzle Library
site to provide a convenient way for others to give new life to their completed puzzles. There is no cost to users and I am paying the development and hosting costs. My hope is that this sharing of puzzles in our community will be replicated in many other towns across the country since the concept is simple - all you need is a place to drop off and pick up puzzles.
You can set up your Puzzle Library at your home, church, school, or even library - any place where folks can leave their puzzles. You can read more about How It Works.
Paul Kautz